March 2017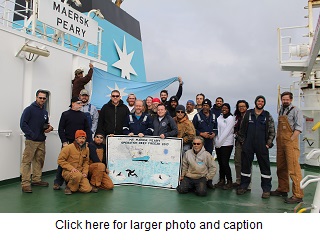 SIU crews from two ships have successfully completed another resupply mission to Antarctica's McMurdo Station.
The annual undertaking, called Operation Deep Freeze, provides crucial supplies to personnel from the U.S. Air Force, Navy, Army, and Coast Guard as well as Department of Defense civilians and other individuals who are stationed at the largest scientific research community in Antarctica.
The SIU-crewed ships, Waterman Steamship-operated Ocean Giant and Maersk Line Limited-operated Maersk Peary, earlier this year brought food, building materials and vehicles, as well as 100 percent of the fuels needed by McMurdo Station for the year. The supplies delivered also keep Amundsen- Scott South Pole Station, 800 air miles from McMurdo, as well as remote field camps operational. The ships are escorted to the station's ice pier by the Polar Star, the Coast Guard's only operational heavy icebreaker.
After offloading nearly 7 million pounds of supplies, the Ocean Giant backloaded cargo for transportation, including ice core samples which are carried in sub-zero freezer containers. Altogether, approximately 500 containers were loaded onto the Ocean Giant, to be taken to Port Hueneme, California.
The crew of the Ocean Giant included Bosun Hernando Bansuelo, ABs Emmanuel Alcantara, Kevin Moore and Jose Panlilio, QEE Mark Campbell, QE4s Edgar Dionio and Alex Oliva, ACU John Lewis, Oiler Robert Brady, Stewards Emie Aguinaldo and Artis Pilgrim, and Unlicensed Apprentice Javaris Wright.
The SIU members aboard the Maersk Peary included Bosun Ronald Paradise, ABMs Karl Mayhew, Lawrence Richardson and Irving Rueda, ABs Clifford Christopher, David Kennedy and James Wynegar, QE4 Rene Hallasgo, QEP Vigilio Demegillo, GSTU Joseph Wattam, Recertified Steward Tony Spain, Chief Cook Lamont Faulks and Wiper Ian Jordan.
"We have had a good mission this year," said Dave Coulter, Military Sealift Command Pacific Sealift/Preposition Ship team lead. "The combination of the good weather and the professionalism of the members of Cargo Handling Battalion One and the ships' crews have really made this year a success, with no incidents and no injuries. It proves once again that MSC delivers! We are all proud to been a part of the mission."
SIU-crewed ships regularly have supported Operation Deep Freeze since McMurdo Station was established in 1955, providing supplies and fuel to scientists operating from the remote base.
# # #