February 2017
The AFL-CIO's Maritime Trades Department (MTD) recently hosted a presentation by New York Times investigative reporter Ian Urbina, who in 2015 wrote an exhaustive, in-depth series of articles covering crime and lawlessness on the ocean, particularly in Southeast Asian waters.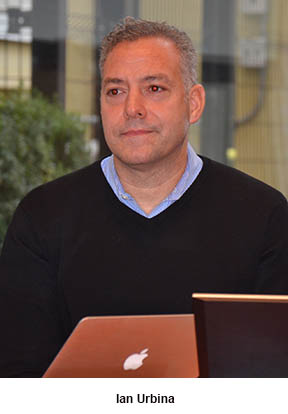 During the Jan. 10 gathering in Washington, D.C., Urbina stated, "The contours of these stories have been told before, but never before in such detail." Those details include up-close views on human trafficking, intentional dumping, poaching and indentured servitude, to name a few. Some of the reporting also focuses on the dangers of so-called flag-of-convenience shipping, also known as runaway-flag shipping.
Throughout his reporting, Urbina showed Western readers the horrors of fishermen forced to work on boats for little or no pay, in deplorable conditions, with no practical way out of their situations. These men are "employed" by less-than-reputable manning agencies, who prey on migrant and down-ontheir- luck men who are desperate for work.
But indentured servitude or "soft slavery," as Urbina described it, is just one of the multitude of crimes happening every day on the seas, including human trafficking, or his self-described "hard slavery." The level of detail and accuracy in his reporting offers a first look for many readers into the world of shipping in Southeast Asian waters, while also shining a spotlight on these very serious issues for those involved in the maritime industry.
He was joined in the discussion by SIU Secretary-Treasurer David Heindel, AFLCIO Secretary- Treasurer Liz Shuler, and International Transportation Workers' Federation (ITF) Maritime Coordinator Jacqueline Smith, as well as other national and international guests of the MTD.
Heindel, who chairs the ITF Seafarers' Section, reflected on the series and the truths that it presents to the reader: "When you look at what goes on with the fishermen … it's hard to imagine that still goes on today."
The series, called "The Outlaw Ocean" and currently consisting of eight installments, is not complete, Urbina told those in attendance. He shared a few stories from his travels and investigations, and offered his views on the problems with eradicating these crimes.
"I found this real divide between those who care to protect labor and human rights, and those who look out for fish, dolphins and eco damage," he said, referring to the divided attention of those trying to offer help in the region. He also spoke about the difficult task of singling out those perpetrating the crimes, specifically talking about the hundreds of manning agencies operating in that region.
Shuler noted the differences between the workers featured in the series and American, unionized workers. "It's the fundamental right of workers to be safe on the job," she said, "but no one can be safe without unions."
Smith spoke after Urbina's presentation, and discussed the ITF's plans to help combat the rampant crime in that area, especially concerning shady manning agencies that prey on those most desperate for a job. However, stopping those manning agencies is no simple task, as Smith said: "There are hundreds – thousands – of manning agencies." She explained that not every manning agency is illegitimate, and making that distinction is where at least part of the root of the problem lies.
The ITF is planning to launch a campaign on unlawful shipping in the near future, with attempted enforcement to begin initially off the coast of Ireland. The federation already runs a decades-long, highly effective campaign against runaway-flag shipping.
###