Home
SIU Membership

White House & Congressional Links

Jobs
Member Benefits

Seafarers Benefit Plans

Seafarers Health and Benefits Plan
Seafarers Vacation Plan
Seafarers Pension Plan
Seafarers Money Purchase Pension Plan
401K
Applications

SARC – Seafarers Addiction Rehabilitation Center
HIPAA Privacy Rules
Address Change

Paul Hall Center

Driving Directions
PHC Promotional Video
40th Anniversary Video
Contact Admissions
School History
SARC – Seafarers Addiction Rehabilitation Center
Course Descriptions

Deck Department
Engine Department
Steward Deaprtment Courses
Additional Courses
Safety

Upgrading Application (PDF)
Course Dates
School Catalog

Seafarers Log

Submitting Stories
Subscribe
Archives
Address Change

News
Gallery

Images
Videos

Maritime Cabotage Law Explainer Video
SIU 75th Anniversary
PHC Promotional Video
40th Anniversary Video
The Seafarers
Military Sealift Command: CMPI 610 Orientation Video

SIU 'Wallpaper'
July 2016
Whether cheerfully transporting passengers or stepping up to help others during emergencies, SIU crews aboard NY Waterway ferries have reliably gotten the job done throughout the company's 30-year history.
Under routine circumstances, the fleet of 35 SIU-crewed ferries is a model of efficiency and a hugely valuable asset to citizens in New York and New Jersey. NY Waterway transports more than 30,000 riders daily (8 million per year) across New York harbor and the East River, which helps reduce road congestion while saving commuters time and benefiting the environment. They consistently earn good marks from customers while receiving an astonishingly small number of complaints.
Anyone familiar with the company's history also knows of its sterling reputation in times of crisis. After the terrorist attacks of September 11, 2001, Seafarers aboard the ferries evacuated more than 163,000 people from Manhattan. Some of the boats operated into the next morning in order to support emergency crews, and several SIU members rescued people who'd fallen from piers into the water (likely because of little or no visibility). They played a huge part in what has been identified as the largest marine evacuation in history.
More recently, SIU crews on NY Waterway boats (the company's spoken name is New York Waterway) pulled 143 of the 155 people from the downed aircraft in early 2009 in what became known as the Miracle on the Hudson. The other 12 individuals from the US Airways plane that crashlanded in the Hudson River were secured by other rescuers, but make no mistake: NY Waterway was first on the scene and did most of the work, including retrieval of Captain Sully.
NY Waterway crews also have rescued more than 200 individuals from drowning, in separate incidents throughout the years. Perhaps not surprisingly, there is a genuine camaraderie and respect among the crews, the passengers and the shore-side employees, including company President and Founder Arthur E. Imperatore, inventor of the modern commuter ferry system, who turns 91 this month and is still on the job.
Don't be fooled by the man's age: He's still razor-sharp, driven and very much engaged in the operation. He also holds his employees and the SIU in high esteem.
"We are very value-oriented and we don't cut corners," he said during a recent interview in his office in Weehawken, New Jersey. "We believe in job satisfaction and job security, and that's why we're in such good league with the SIU. They don't have b.s. values and neither do I…. I hope to have an ongoing relationship with the SIU for a long, long time. I have high levels of regard and respect for this union."
Deckhand George Schumpp, one of the more than 200 SIU members employed at NY Waterway (he and many others have trained at the union-affiliated Paul Hall Center in Piney Point, Maryland), has worked for the company for 28 years, almost since its inception.
"I didn't know if we'd make it, but we did," he said recently aboard the Thomas Jefferson. "We've all tried to do everything possible to help this place succeed."
He added that some of the job's highlights include "having the passengers get to know you over the years and working with your fellow union brothers. People look forward to seeing you in the mornings and they even notice when you're not there."
Schumpp also said he sees a good future for Seafarers at NY Waterway.
His fellow Deckhand Edwin Montoya has been with the company for 17 years. He described his job as "the best. I love to work on the water and I can go home in the evenings and see my family…. We're consistently growing, with more employees and boats. We have a bright future here."
Captain Rick Thornton, a 26-year employee, also expressed a great degree of job satisfaction. "The people are nice, both the passengers and the company people," he said. "It's steady, it's fun driving the boat and you're home at night."
Thornton said a key to NY Waterway's success is its related bus service, which offers further convenience for riders. He also said the workers appreciate pats on the back from Imperatore, a tough but fair boss.
"It took a special guy to make this work," Thornton stated.
'Based on Integrity'
While the figurative nuts and bolts of the operation matter, Imperatore is more inclined to describe overarching principals when discussing NY Waterway's success.
"We have a clear and consistent philosophy based on integrity," he explained. "Character matters. We're very selective in our hiring, and there's a wholesomeness in how we go about our business. We serve the public, and that's a very high calling."
Considering the boats have a consistent record of operating 99 percent on time, it's hard to argue with the results. While largely unsubsidized, the company nevertheless is regarded by many as the most reliable mass transit system in the region.
"I'm very proud of what we've done and proud of our people," Imperatore added. "We're a service community, offering something worthy."
It's fair to say he leads by example. During the World Trade Center bombing in 1993, Imperatore was on the scene assisting people onto NY Waterway ferries for 10 hours.
Decades ago, Imperatore had a vision for the company that many scoffed at. Time and hard work have validated his foresight, and he sees more good things ahead.
"There is good job security for our employees," he concluded. "Working people are smart, and they want to enjoy their lives – not only a job, but something of worthiness. We have that. We have a lot of potential here and it's back to the future, really."
NY Waterway At a Glance
– Popular passenger ferry service employing
SIU captains and deckhands
– Founded in 1986 by Arthur E. Imperatore
– Nation's largest privately operated commuter
ferry company
– Fleet of 35 ferries carries more than 8 million
passengers per year
– Services 21 routes between New Jersey and
Manhattan; between Brooklyn, Queens and Manhattan;
between Rockland and Westchester counties;
and between Orange and Dutchess counties
– Offers free, seamless connecting bus service
– Played pivotal roles assisting others on September
11, 2001, and during the Miracle on the
Hudson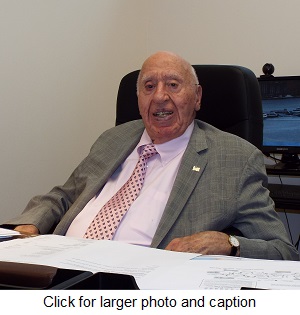 Subscribe
Submitting Stories
Archive
Comments/questions about this site? Contact the Seafarers Webmaster
© Seafarers International Union – All Rights Reserved