June 2016
SIU-contracted Crowley Maritime Corporation recently christened the third of four new product tankers at the Julia Street Cruise Terminal in New Orleans. The vessel, named the Louisiana, will join two sister ships, Texas and Ohio, in the Jones Act trade, and will carry a crew of SIU mariners.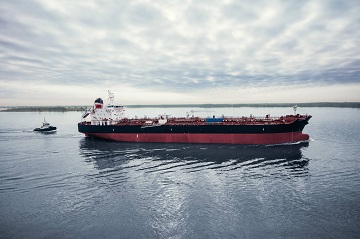 SIU Vice President Gulf Coast Dean Corgey and Port Agent Chris Westbrook represented the union at the christening May 5. Attendees representing Marathon Petroleum Corporation, the vessel's charterer, and shipbuilder Philly Shipyard Inc., watched as Carrie Templin, wife of Don Templin, Marathon executive vice president, carried out the time-honored tradition of christening the tanker by breaking a ceremonial bottle of champagne across the hull.
The 50,000 dead-weight-ton (dwt), 330,000-barrel-capacity Louisiana is one of the first tankers to receive the American Bureau of Shipping's LNG-Ready Level 1 approval, giving Crowley the option to convert the tanker to liquefied natural gas for propulsion in the future.
"This is a great day of celebration for Crowley, Marathon, Philly Shipyard and all the people who had a role in bringing this great ship to life," said Tom Crowley, company chairman and CEO. "We also celebrate the men and women seafarers who will be counted on to operate her safely and reliably for our customer, Marathon. There is nothing more important."
The new tankers are based on a proven Hyundai Mipo Dockyards (HMD) design that incorporates numerous fuel efficiency features, flexible cargo capability, and the latest regulatory requirements. Similar to its sister ships, Louisiana is 600 feet long and is capable of carrying crude oil or refined petroleum products, as well as other chemical products.
SIU Vice President Contracts George Tricker said, "This new vessel is the pinnacle of modern technology, combining efficiency and environmental safety to help ensure smooth sailing. Our mariners undoubtedly will do outstanding work aboard this ship."
Construction management services were provided by Crowley's marine solutions group, which provides oversight and management in shipyards across the country for Crowley and other third-party companies. Philly Shipyard (formerly known as Aker Philadelphia Shipyard, Inc.) also built the tankers Texas and Ohio for Crowley; the fourth ship in the program is under construction, with delivery planned for third quarter 2016.
"The christening underscores our continued commitment to building and operating innovative vessels that deliver the best possible service and efficiency for our customers who depend on us for safe and reliable transportation of petroleum products," said Rob Grune, Crowley's senior vice president and general manager, petroleum services. "And, as is the case with its sister ships, we designed and built the Louisiana to have the capability to be converted to LNG propulsion in the future, increasing the likelihood of a long service life as new emissions regulations are developed in the years ahead."
# # #