March 2016
He may not be a household name to the younger members of today's U.S. Merchant Marine, but Gen. Duane Cassidy played a gigantic role in keeping the industry alive during the 1980s and 1990s.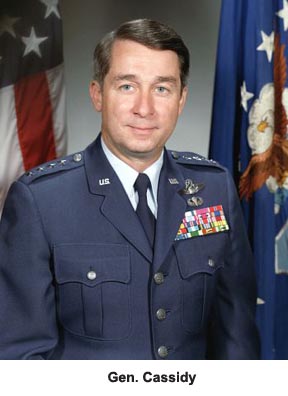 The retired Air Force general – who served as the first commanding officer of the U.S. Transportation Command (USTRANSCOM) beginning in 1987 – passed away Feb. 8 in Chapel Hill, North Carolina. He was 82 and had been battling cancer.
"General Cassidy was a man of honor and integrity," said SIU President Michael Sacco. "He was a tremendous leader, a true patriot and a respected friend. He was also a strong, effective advocate for the American maritime industry."
SIU Executive Vice President Augie Tellez said that despite Cassidy's powerful stature, "He was also just a down-to-earth, nice guy. He was a mentor to many and motivator to all who heard him speak in public or in private counsel. At USTRANSCOM he was the driving force in getting all of his components to work together for the good of our ultimate customer: the guy in the foxhole putting his life on the line."
Gen. Carlton D. Everhart II, current commander of the U.S. Air Mobility Command, called Cassidy "a pioneer. He will be greatly missed for years to come, but his legacy will certainly live on."
The current leader of USTRANSCOM, Gen. Darren McDew, stated, "General Duane Cassidy will be remembered as a husband, father, grandfather, friend to all, and the man who built our great command. He was an exceptionally rare leader, an officer whose legacy continues to influence nearly every decision we undertake in the Department of Defense's transportation, distribution, and sustainment enterprises. Without his intuitive vision, particularly his deep understanding of the importance of enhancing our organic transportation capabilities with the strength and depth of American industry, our nation would certainly not have achieved the successes we have realized in war and peace over the last three decades."
A native of suburban Pittsburgh, Cassidy retired from the Air Force Sept. 30, 1989, after serving for more than 35 years. He flew both bombers and cargo aircraft (accumulating more than 8,000 flying hours) before moving up the chain of command. His military decorations and awards include the Distinguished Service Medal, Legion of Merit, Bronze Star Medal, Defense Meritorious Service Medal, Meritorious Service Medal with two oak leaf clusters, and the Air Medal.
Even after retiring, he continued to support America's defense readiness, both as a board member with the National Defense Transportation Association (NDTA) and as chairman of the board of officers of the Airlift/Tanker Association, among other endeavors. Through it all, he remained an outspoken backer of the U.S. Merchant Marine.
A loving father and husband, Cassidy is survived by his wife Rosalie, daughters Diane and Susan, sons Mike and Patrick, and their families, including eight grandchildren and one great-granddaughter.
"Our Air Force family mourns the passing of General Cassidy – an American Airman, decorated war hero, and legendary architect of Air Force transportation," said Air Force Chief of Staff Gen. Mark A. Welsh III. "Not only did he prove his worth in combat, he showed his heart in countless humanitarian missions around the globe. Although we can no longer swap war stories with him, we know General Cassidy will guard and guide the ones who fly, both now, and forevermore."
# # #