March 2016
The world's second liquefied natural gas-powered (LNG) containership, the Perla Del Caribe, was delivered to SIU-contracted TOTE Maritime on Jan. 22. General Dynamics NASSCO delivered the vessel for service in the Jones Act trade between Jacksonville, Florida, and Puerto Rico, where it joins its SIU-crewed sister ship Isla Bella.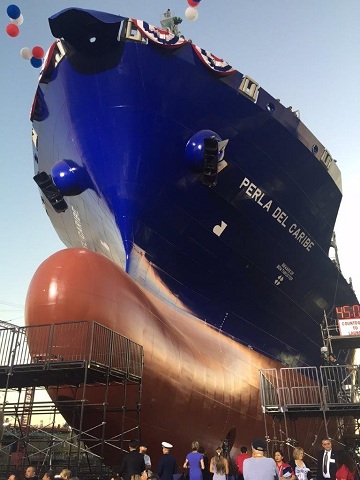 SIU President Michael Sacco remarked, "The new Marlin Class vessels that TOTE operates are the first of their kind, and have set the bar for cutting-edge efficiency and very low emissions. These ships – the Perla Del Caribe and the Isla Bella – are the future, and they're in good hands with SIU mariners on board."
"The Perla Del Caribe and the Isla Bella exemplify world-leading, innovative technologies being used to build oceangoing ships that are cost-effective, friendly to the environment and offer a competitive edge," said Kevin Graney, vice president and general manager at General Dynamics NASSCO, a union shipyard.
He added, "NASSCO shipbuilders are proud to have successfully built the world's very first LNG-powered containerships."
TOTE successfully bunkered the ship on Dec. 11, with bunkering services provided by the California-based company Clean Energy as well as Baker Hughes and Envent during a 48-hour period at the NASSCO shipyard in San Diego. The Perla Del Caribe received 210,000 gallons of LNG, which is nearly double the amount bunkered for the Isla Bella.
"It has been a pleasure working with the men and women of NASSCO over the last three years to bring the Marlin Class from concept to reality," noted Anthony Chiarello, president and CEO of TOTE. "The Isla Bella is already serving the people and communities of Puerto Rico and we are excited to introduce the Perla Del Caribe into the trade next month."
The two 764-foot-long containerships will be the largest dry cargo ships powered by liquefied natural gas, making them the cleanest cargo-carrying ships in the world, according to TOTE and the shipyard. This groundbreaking green ship technology dramatically decreases emissions and increases fuel efficiency when compared to conventionally powered ships – the equivalent of removing nearly 16,000 automobiles from the road.
The Jones Act ensures that all trade between domestic ports is carried out on vessels that are U.S.- crewed, built, operated and owned. It also accounts for almost a half-million jobs in the U.S. while generating more than $100 billion in total annual economic output.
Since 2005, NASSCO has delivered 12 commercial ships and currently has seven commercial vessels in its backlog scheduled to be delivered this year and in 2017.
# # #