Article and photos courtesy of the Seafarers-affiliated American Maritime Officers. Top photo includes Bosun Damon Zschoche and AB Roni Castillo.
Maersk Peary saves a life during multinational search and rescue operation

By Captain Everett Hatton
Master, Maersk Peary

On the evening of December 22 at 2030 local time while Maersk Peary was transiting the Aegean Sea north of Crete and on the way to Suez Canal, the Navigation Bridge Watch Officer, Third Mate Gemma Nguyen, received a call on VHF Channel 16 from Rescue Center Piraeus.

The call was to inform Maersk Peary to join in a search mission for a vessel that capsized the previous day, and of which we were now in the immediate vicinity. Our plotted route to Suez Canal took us to within 13.5 nautical miles of where the vessel was initially reported being capsized with possibly 60 people.

Third Mate Nguyen called me to the bridge to speak with Rescue Center Piraeus on Channel 16. At that point while speaking with Rescue Center Piraeus, I received orders and directed a recommended course change and also asked for a telephone number to call Greek Coast Guard for more details of what and how Maersk Peary could assist.

Upon further discussion with Greek CG on phone, it was determined that Maersk Peary should proceed north about 10 miles while gaining contact with the Greek Hellenic Warship that was on station and was acting as Operation Command for Search and Rescue. I then returned to bridge and instructed the additional course change while contacting Hellenic Naval Warship for guidance on our search area.

We contacted the Command Vessel and received instructions with coordinates making a box and were told to proceed there while keeping a lookout for possible survivors in the water. At 2048, while our area was being plotted, I decided to head on a northerly heading into our box. As we approached our given area of patrol, we slowed the vessel, added extra lookouts and manned the search lights scanning ahead of the bow while doing our grid search. At the time of entering the search area (box) that was given to Maersk Peary, we had on Bridge Watch:




Master: Everett M. Hatton
Third Mate: Gemma Nguyen
Quarter Master/Lookout: Derek Willis
Bosun: Damon Zschoche
Ice Pilot: Rob Lee
TACAD: LTJG Kelly Flynn

At 2157, after about an hour of slow steaming with search lights headed north in our grid search, I noticed something in the water just off our starboard bow. I could tell that, based on our current heading (001 T) and speed (@ 5.0 knots), the white object would pass close down the starboard side. I kept the searchlight on the object while Third Mate and Bosun focused on it with binoculars. As we got closer, it was determined that a person could be seen with arms raised holding onto the white object (later identified as a boat fender). I at this time stopped main engine.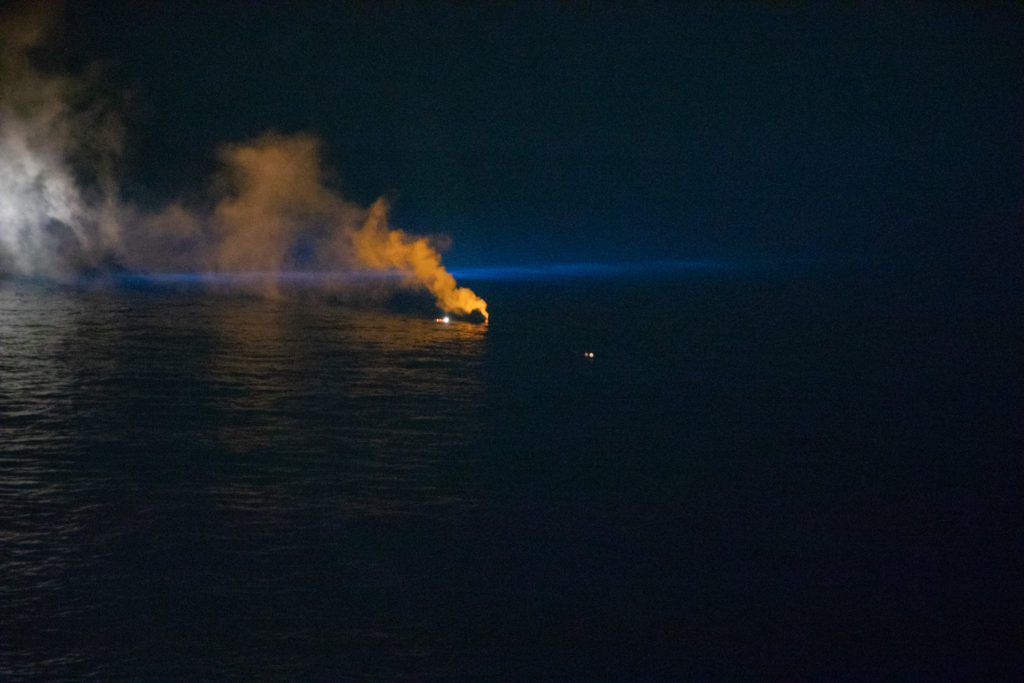 As the person in the water neared the beam of the starboard side of the vessel at about 50 meters, the deck lights illuminated the area enough that a person was seen obviously alive and in the water trying to stay afloat. At this time the bridge wing life-ring bouy, orange smoke and light were released while yelling to the person to "go near the light with attached bouy and hold on." I began to back the engine while turning hard to starboard and keeping an eye on the bouy light as we passed. The rescue boat crew was called into action along with additional lookouts (Security Team) as I began the process of maneuvering in close while the launch team was preparing the rescue boat. A call to the Command Vessel was made that a survivor was located in the water and that we were launching our rescue boat. I asked that they send help immediately. The Command Vessel then sent OSP707 to location while our rescue team made initial recovery.




The Rescue Boat Crew consisted of:

Chief Officer: Trevor Fouhey
Third Engineer: Caleb Linder
Bosun: Damon Zschoche

Launching Crew:

First Engineer: Paul Styx
Third Mate: John McMonagle
AB: Roni Castillo
Ice Pilot: Rob Lee

Extra Bridge Lookouts:

FP Team: Chris Fontenot
FP Team: Kresimir Gulin
FP Team: Marceli Kapron
FP Team: Daniel-Viorel Lupu

At 2212, the rescue boat crew members threw in some blankets and were able to launch and proceed to the survivor in short time. When they were approaching the survivor, he was having a hard time barely staying afloat. He was using the boat fender as a life buoy by keeping it under his chest so that his head and shoulders could remain above water.

At 2218, the rescue boat crew arrived alongside the lone survivor and had to grab the man and pull him into the rescue boat. He had no energy to assist getting himself into the rescue boat. He was wearing only a t-shirt, shorts and socks. It looked like he must have jumped into the water from being asleep.




The Chief Mate tried to get a response from the man; however, he was too cold and could only make slurred noises while in a constant state of shivering. They wrapped him in blankets and proceeded back to the vessel. Shortly after this, the Greek Coast Guard vessel OSP707 arrived and launched their rescue boat with crew and proceeded close alongside the Maersk Peary's rescue boat to transfer the survivor.

At 2230, the Greek rescue boat arrived alongside and rafted along Maersk Peary rescue boat. After taking custody of survivor and while we recovered our rescue boat, the OSP707 recovered our life ring and light and returned to us. They then transported the survivor back to OSP707.

At this time, I reported in to Greek Search and Rescue Command and they informed me to continue doing our grid search. We complied with the order until other vessels arrived in vicinity and took over our search and rescue. At 0230 December 23 (2330Z December 22), we were contacted by Greek Search and Rescue Command that we were relieved of search and rescue duties and could be on our way.

Our total search and rescue time amounted to six (6) hours.

For the Maersk Peary crew, it was an outstanding effort for everyone to be involved in this recovery.

###