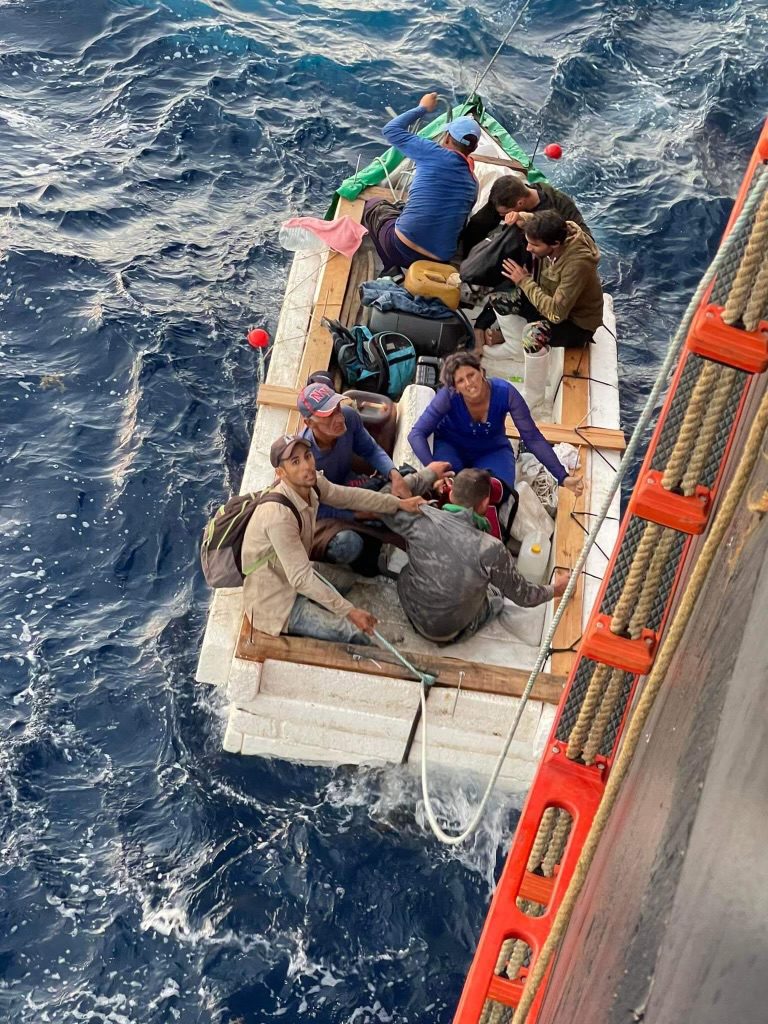 Seafarers once again answered the call on October 29, and those sailing aboard the National Glory aided in the rescue of seven adrift boaters off the coast of Cuba.
At 1740, a small craft was spotted off the starboard side of the Intrepid Personnel and Provisioning-managed container ship. The vessel diverted course, and quickly determined that those aboard the small vessel were in need of assistance, as their craft had lost main propulsion and they were adrift.
All seven passengers were brought aboard, and provided blankets and dry clothes, as the cargo ship proceeded to a designated rendezvous with the U.S. Coast Guard. The passengers were transferred to the Coast Guard just after midnight, and the National Glory resumed its previous route to Houston, Texas.
Bosun Nagi Ahmed Mihakel said, "If we didn't see them, seven lives would of be gone. The ocean doesn't have mercy, and if a heavy wind hits, or a strong wave, it can wash away islands or cities. That tiny raft, which was custom built, wouldn't last a second."
Mihakel continued, "They told us we were the only ones that went back to save them. A few ships passed them, and they weren't sure if they even saw them, or if they thought they were okay."
The crew of the National Glory included Captain Thomas Lisante II, Chief Mate Kevin Wood, 2nd Mate Alexander Jenkins, 3rd Mate Peter Carnazza, Bosun Mihakel, AB's Moises Nolberto Arzu, Carlos Alberto Lasso and Marlon Enrique Suazo Fernandez, OS's Dexter Omar Arriola Arzu and Jose Enrique Soler Cifre, Chief Engineer Jacob Emery, 1st Asst. Engineer Devin Glossin, 2nd Asst. Engineer Justin Kretzmer, 3rd Asst. Engineer Sean Grace, QMED/Electrician Edward Williams, Oilers Ibrahim Mohamed Mansoor Ahmed and Thomas Bateman, Recertified Steward Lionel Packnett and Chief Cook Esperanza Crespo.
In an email sent to the bosun after the rescue, the captain wrote, "Great job by you and the entire SIU crew spotting the raft, notifying the bridge, helping translate with the survivors and safely recovering all 7 survivors. Together, the crew represented the best of what the U.S. merchant marine is all about. It is pleasure sailing with you and this crew of professional SIU mariners.  The survivors will forever be grateful for the crew's professionalism, seamanship and compassion shown."
# # #