Chris Lee and Michael Hebert see the Jones Act from different perspectives, but they both view the nation's freight cabotage law as critical to America's national and economic security.
That message came through in their respective speeches to the Maritime Trades Department (MTD) executive board early last month in San Antonio, Texas. Hebert, who's in charge of the U.S. Customs and Border Protection's Jones Act Division of Enforcement (JADE), gave his remarks March 9, while Hawaii State Representative Lee was the wrap-up speaker the following day.
Enacted nearly a century ago, the Jones Act requires that cargo moving between domestic ports be carried on vessels that are crewed, built, flagged and owned American. It has always enjoyed strong bipartisan support but also regularly comes under attack, usually by foreign-flag interests.
Hebert said he views the law as a commonsense way to keep the country safe.
"We all know the purpose of the coastwise laws is to ensure the protection of our maritime interests and our shipbuilding interests in the United States," he stated. "My father-in-law spent his entire career in the shipbuilding industry, so I have a little more appreciation than most in Customs with the maritime industry and with our shipbuilding industry. It is critical."
He continued, "Without the Jones Act, we would have issues in our inland river systems with national security. Our national security is a layered approach…. There's no way that we could enforce our national security laws without the Jones Act."
Hebert then described the magnitude of trying to protect the nation without the Jones Act.
"We have 95,000 miles of coastline in the United States," he said. "When we look at the southern border, that's 1,900 (miles), and we're really concerned about the southern border. But we (also) need to be concerned about our coastline and our river systems. Without the Jones Act, we would be inundated with foreign-flag vessels and non-coastwise-qualified vessels doing business at our critical infrastructures. They would have unfettered access to our refineries and more, and that's an issue to me. Along with the vessels, the foreign crew that are on these vessels…."
Hebert illustrated the security risks as substantial and said it would be extremely difficult to safeguard such a vast area without tens of thousands of additional security personnel.
Next, he talked about some of JADE's activities. Upon the department's formation last year (they're a national unit based in New Orleans), they identified a lack of uniform enforcement across the country. They are working to mitigate that condition, Hebert said.
JADE assists ports and works with the Coast Guard and Customs, he added. They monitor allegations of Jones Act violations that are reported and weigh in on individual cases. There are many more inquiries now that people know where to turn to ask questions and submit complaints about possible violations, he noted.
They also work to facilitate "legitimate trade."
"Our missions are education and enforcement. If we have more education, we'll have less enforcement," Hebert concluded.
As the meetings drew near a close, Representative Lee said that as an island resident, he deeply appreciates the dependability of American-flag ships with American crews. He stated, "We need, not only for ourselves but for the security of everybody else in our state, some sort of reliable and dependable source of transport for everything that we need to survive. There's nothing more important than that. That is why when it comes to the Jones Act, we cannot compromise."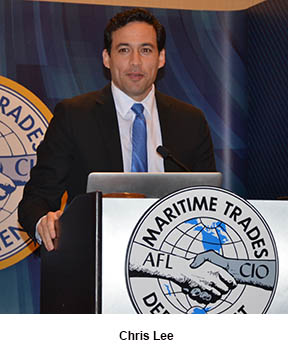 The state legislator cited the need for investment in U.S. maritime infrastructure: "It's a conversation that absolutely has to happen…. National security means robust maritime capacity."
Lee also called for unity and said that while certain issues may come off as Democrat versus Republican, they are really things that affect all Americans.
"What we see is that we're not divided by ideology most of the time. We're divided by education on these critical issues," he said. For instance, Lee cited a 2016 survey that revealed many Americans across the country believe 25 percent of the federal budget goes to foreign aid. The actual figure is less than one percent.
"But it's at the top of everybody's hit list," he continued. "If people understood what these things meant … and we were able to articulate this in a way that is relevant for them, it would change that discussion. It would change the perspective the public has, and the response to attacks that are made on these things. Foreign aid, Food for Peace, just along with the stick side of our national defense, is the carrot. These things work hand in hand. They give us the tools we need to go out in the world and fight the fights and win the victories we need to survive. If we lose these things, we're only hurting ourselves."
The state lawmaker said it's also important to build the base of support, and credited unions in that regard. But he encouraged allies to frame the discussion not only in statistical terms, but also in humanitarian ones.
"We have to speak in values," Lee explained. "In Hawaii, for example, we cannot do without the Jones Act – without federal support, which is actually the single biggest pillar of our economy. You have to double down on the values that we share, because it's investing in people and workers and health care and benefits. It's investing in American workers and American jobs. That's what the Jones Act itself is all about."
He concluded by emphasizing that the maritime trades are "absolutely necessary to national security. We need only educate people about them."
###