The SIU-affiliated MTD welcomes back one of its charter members as an affiliate of the department.
The International Longshoremen's Association (ILA) returns to the ranks of the MTD. ILA International President Harold J. Daggett will serve as the union's MTD Executive Board Member.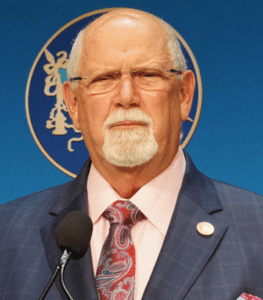 "It is wonderful to have the ILA back within the MTD," stated MTD President Michael Sacco. "We have a long and strong history with the ILA. Mariners and dockers work side-by-side in the ports and harbors. We will continue to work together to improve the lives of our members and their families."
As noted above, the ILA was among the original five unions affiliated with the department when it received its charter from the American Federation of Labor in 1946. The ILA had a break in service with the MTD between 1967 and 1981, as well as since 2013 until today.
Brother Daggett became the union's ninth president when he was elected in 2011. He has been reelected two times.
He is a third generation Longshoreman. He joined Local 1804-1 in 1967 after being honorably discharged from the U.S. Navy. He served in Vietnam.
Starting as a mechanic, he worked his way up to foreman. He was appointed the local's secretary-treasurer and business agent in 1980.
In 1998, Daggett was elected the local's president. Three years later, he was elected secretary-treasurer of the ILA's Atlantic Coast District, winning reelection in 1995 and 1999.
During the 12 years before becoming International President, Daggett served as an ILA Executive Officer: eight years as Assistant General Organizer and four more as Executive Vice President.
The father of three, he was honored in 2015 by the New Jersey AFL-CIO as its Outstanding Labor Leader. Throughout his career, he has been active in numerous charities, including the ILA's Hole in the Wall Gang Camp, Toys for Tots, St. Jude's Children's Hospital and Boy Scouts of America.
# # #