Their respective years in Congress contrast greatly, but the two U.S. representatives who recently addressed the Maritime Trades Department executive board both voiced enthusiastic support for America's working families and for the U.S. Merchant Marine.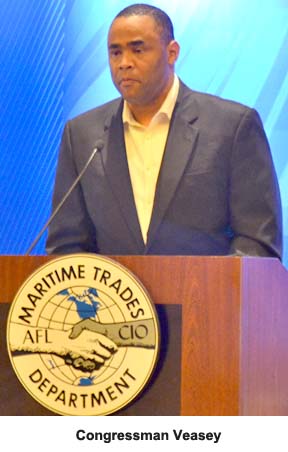 U.S. Rep. Marc Veasey (D-Texas) kicked off the two-day gathering Feb. 18 in San Diego, while U.S. Rep. Steny Hoyer (D-Maryland) was the final guest speaker the next day. Veasey has served in Congress since 2013; Hoyer is in his thirty-sixth year in office.
Veasey said that as a member of the House Armed Services Committee, "I have learned firsthand about the support our [military] needs to respond to evolving national security threats. Since the founding of the United States, civilian mariners have been at the forefront of the nation's economy and security…. Today the U.S.-flag fleet still performs a critical and vital role for our nation."
A member of the Congressional Maritime Caucus, Veasey said many Americans may not realize the importance of the maritime industry and the impact it has on their daily lives. "But we depend on the quality of our docks, our shipping industry and the talents of our workers in the maritime industry," he said. "If we want our country to continue to prosper, our maritime industry must continue to thrive."
Veasey explained how the U.S. Maritime Security Program (MSP) benefits national and economic security, and said he is proud to support it. In addition to ensuring the availability of privately operated, militarily useful vessels, the program "also ensures that well-trained American Merchant Mariners are available to serve as crew," he noted.
Turning his attention to the labor movement, Veasey stated, "Our nation's unions have done tremendous work to ensure the economic security of the maritime industry. Unions have a long tradition of championing better working conditions for their members and work to ensure that our workers are fairly compensated…. I salute our unions for all the work they have done and continue to do to keep our economy thriving."
Hoyer's district includes Piney Point, Maryland – home of the SIU-affiliated Paul Hall Center for Maritime Training and Education. He called the school "one of the great training centers in our country," and also offered condolences to family and friends of the El Faro's final crew, many of whom had trained in Piney Point.
A longtime friend of both the SIU and the MTD, Hoyer said maritime is "an industry which is absolutely critical to our country's strength. We need to keep it strong."
He also saluted the "courage and dedication America's maritime workers demonstrate every day."
Shifting to workers' rights, Hoyer said the upcoming elections are "a great challenge and turning point" for America's working families. He said he encourages all eligible workers to join unions, and noted that the proliferation of part-time jobs across the nation, while convenient in some circumstances, leaves workers with "greater uncertainty about their future."
"There's a direct correlation: As we see union membership shrink, people are less well-off," Hoyer stated.
"As I see it, the election this November boils down to [one] question," he continued. "Will we elect leaders who will help our workers and their families navigate the profound changes taking place in our economy, or will we elect those who tell them, 'You're on your own.'?"
He said pro-worker legislators "believe we're in this together. That's what unionism is all about – the theory that a single voice can be easily ignored, but if you add 10 voices, or 100 or 1,000 they will not and cannot be ignored."
Hoyer said he still believes bipartisanship is possible, and was reflected in last year's reauthorization of the U.S. Export-Import Bank. Gridlock in Congress has largely been caused by a small group of political extremists, he said.
Additionally, he said he is still promoting his "Make it in America" agenda. The program was launched in 2010 to promote job growth, wage growth and a revitalization of U.S. manufacturing.
"All people in America do better when working people do better," he concluded.
###