Rescues at sea are nothing new for longtime SIU member AB Donnie Collins, but that doesn't mean he takes them lightly.
That point was reinforced March 1 when Collins and his fellow Seafarers aboard the Crowley-operated ATB Legacy saved eight Cuban migrants who'd been stranded at sea aboard a makeshift raft for nearly a month. The rescue took place in the Gulf of Mexico, approximately 145 miles south of Southwest Pass, one of the channels at the mouth of the Mississippi River.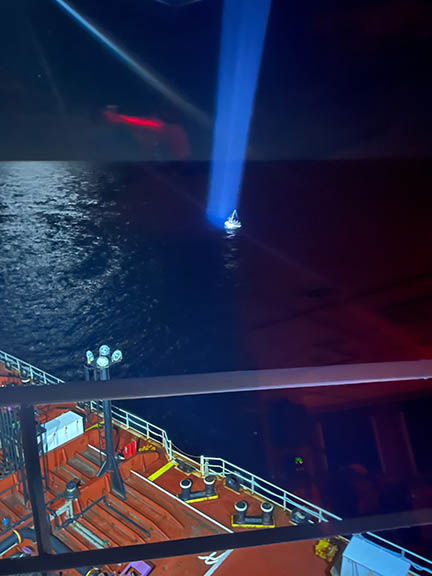 "They said they had left Cuba on Feb. 2, supposedly to go to Mexico," recalled Collins, a 33-year SIU member who'd previously assisted in three other rescues. "They figured it would take them five days. When we found them, they thought they had been at sea for 18 days. We told them, no, it's March 1."
Taking part in the rescue were Capt. Gus Cramer, Chief Mate James Steltzlen, Second Mate Brett Stepanski, Third Mate Devon Haffner, AB/Tankermen Collins, Thomas Tramutola, Jarred Moylan and Dominique Calvy, Chief Engineer Cle Popperwill, First Assistant Engineer William Ziadeh, Second Assistant Engineer Andrew Burns, Third Assistant Engineer Joseph Krajnik, and Cook America Cacho.
"The crew did an excellent job," Cramer said.
Collins and Stepanski were on watch at approximately 1:30 a.m. when they spotted a flashing light.
"I went outside and could hear someone screaming," said Collins. "I yelled to them that we'd be coming back."
The Legacy approached the raft while contacting the U.S. Coast Guard; the agency then dispatched an aircraft. Cramer later determined that the most prudent means of bringing the migrants aboard was to deploy a pilot ladder on the vessel's barge.
"The seas were getting bigger, and [the migrants] weren't going to make it to the next night, the way we saw it," Collins recalled. "You could tell they were grateful when they came aboard. They said they'd originally had an engine on the raft, but lost it."
"When we got really close to them, we were going to hand them supplies and food, but it was obvious to me that the raft was in pretty bad shape," Cramer said. "We weren't going to leave them out there; we were going to get them on board."
Cramer noted that the original estimated time of arrival for the Coast Guard cutter that had been dispatched was upwards of 14 hours.
The eight males told the Legacy crew that they had survived largely by grabbing food scraps from the water (available perhaps because of the large number of cruise ships in those waters). With Cacho and Ziadeh serving as interpreters, they mentioned that numerous vessels had passed them.
"They were in pretty bad shape," Collins added. "We weren't sure if they'd have the strength to climb up the ladder. Once they were aboard, we fed them, gave them liquids, and mustered up some old coveralls and rubber boots. They didn't have shoes."
As a safety matter, the Legacy personnel also searched the migrants for contraband (and found none).
"You always have to double-check people," Collins said. "You don't know who you're dealing with, so you have to be safe."
Roughly 10 hours after the migrants boarded the Legacy, they were transferred to a Coast Guard vessel. The transfer only took about 45 minutes, Cramer said.
Reflecting on the experience, Collins stated, "We all felt great about helping. A lot of us were probably emotional about it, because people don't understand that others are desperate to leave that country and its totalitarian system…. If the one migrant didn't have an LED flashlight, he'd have never been seen."
###