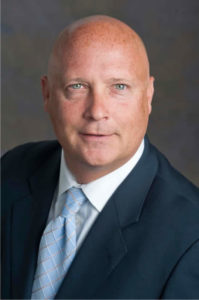 Tom Orzechowski is the Secretary-Treasurer of the Seafarers International Union.
A native of Camden, New Jersey, Orzechowski graduated in 1991 from the trainee program at the Seafarers Harry Lundeberg School of Seamanship, located at the Paul Hall Center for Maritime Training and Education in Piney Point, Maryland.
He sailed in the deck department, both in the deep sea and inland divisions.
Orzechowski came ashore in 1996, when he was elected port agent at the SIU hall in St. Louis.
Two years later, in 1998, he was elected vice president of the SIUNA-affiliated Seafarers Entertainment and Allied Trades Union (a position he held until being elected Secretary-Treasurer in 2023). In 2000, he was elected to the SIU executive board as vice president of the union's Lakes and Inland Waters. He was re-elected in 2004, 2008, 2012, 2016 and 2020.
In 2000, he was elected as a vice president of the Seafarers-affiliated United Industrial Workers.
Orzechowski has extensive experience as an organizer and contract negotiator, including sailing aboard organizational-status vessels. He also serves as co-chair to the union's SIU Rivers Pension Trust.
Having worked out of the union's Algonac, Michigan, office from 2000 to 2016, he had served as an executive board member for the Metropolitan Detroit AFL-CIO, the Michigan State AFL-CIO and the Greater Chicago and Vicinity Port Council of the Maritime Trades Department in addition to serving as Vice Chair and ultimately Chairman for the Detroit Wayne County Port Authority until 2015, and Chairman of the Detroit Wayne County Port Foundation, which was formed in December 2011 and active until 2015. The Foundation's functions include education, community outreach, maritime preservation and environmental stewardship.