Karen Horton-Gennette is the national director of the Seafarers-affiliated United Industrial Workers (UIW).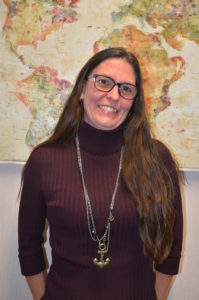 She began her Seafarers career as an employee in Algonac, Michigan, in 2000. A year and a half later, she was promoted to business representative for the SIU-affiliated Seafarers Entertainment and Allied Trades Union (SEATU).
That job took her to Kansas City, Missouri, where she represented union members at three casinos: one facility in Riverside, Missouri; another in Sioux City, Iowa; and a third in Baton Rouge, Louisiana. She handled all servicing duties and addressed members' concerns.
In 2005, Horton-Genette transferred to Honolulu, where she represented SEATU crew members on NCL America vessels.
A year later in 2006, she returned to Kansas City and resumed representing the casino workers.
Karen in 2007 was promoted to assistant vice president of SEATU. In that capacity, she helped oversee all SEATU properties and union halls, negotiated collective bargaining agreements, organized new facilities and handled high-level grievances. Throughout that time, she also worked closely with the SIU and the UIW.
Karen is a native of East China, Michigan, and currently resides in Algonac.