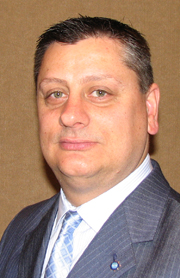 Joe Soresi is vice president of the Seafarers International Union's Atlantic Coast Region.
Following in the footsteps of his father, Tom (an SIU member since 1961), he joined the union in 1990 and shipped out until March 1993, last sailing as an AB aboard the ITB Groton.
Soresi came ashore in 1993 to work for the SIU as a patrolman in the port of Philadelphia and became port agent there in 1996. During those years, he was active in organizing campaigns in Missouri, Illinois and Indiana involving an affiliate of the SIU, the Seafarers Entertainment & Allied Trades Union, and became involved in other areas of the labor movement as well. While in the Philadelphia region, he was vice president and served on the board of the Philadelphia AFL-CIO, and he was elected secretary-treasurer of the Delaware Valley and Vicinity Maritime Port Council of the MTD.
In February 2002, Soresi, who was born and raised in Staten Island, N.Y., was appointed by the SIU's executive board as vice president of the Atlantic region. In 2004, he was elected as a vice president of the New Jersey State AFL-CIO. Soresi also currently serves in the position of president of the New York Maritime Port Council, vice president of the Hudson County Central Labor Council, and a vice president of the Food and Allied Service Trades.