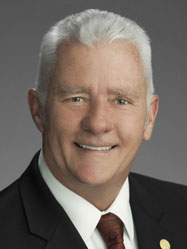 Dean Corgey is vice president of the Seafarers International Union's Gulf Coast Region.
A lifelong resident of Houston, Corgey began his career with the SIU in 1973 after graduating from the entry training program for merchant mariners at the Paul Hall Center for Maritime Training and Education in Piney Point, Md.
He later sailed as a chief engineer for G&H Towing Company and continued his vocational education at Piney Point, where he earned a chief engineer/limited ocean Coast Guard License.
Corgey came ashore in 1979 and worked in Houston as an organizer for the SIU. He subsequently worked as a patrolman and, in 1986, became the SIU's Houston port agent. He became an assistant vice president in 1988 and vice president of the Gulf Coast Region in 1990.
Corgey also serves as a vice president of the Texas AFL-CIO; as secretary-treasurer of the West Gulf Ports Council of the AFL-CIO Maritime Trades Department; and on the executive board of the Harris County AFL-CIO. In January 2013, he was appointed by the Houston City Council to serve as a member of the Port Commission of the Port of Houston Authority.
He also served two terms on the Coast Guard's Towing Safety Advisory Committee. He currently serves as a member of the U.S. Department of Homeland Security's Area Maritime Security Committee for the Port of Houston/Galveston and as chairman of the City of Houston Ethics Committee. He is a member of the board of directors for the Houston Maritime Association.
Corgey is married to Theresa Mangiameli Corgey. They have two sons and are active members of First Baptist Church.