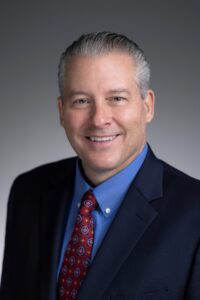 Bryan Powell is vice president in charge of the Southern Region, Great Lakes and Inland Waterways.  He also serves as a vice president on the executive board of the SIU of North America, and vice president of the Seafarers Entertainment & Allied Trades Union (the SIU's gaming, service and hospitality division).
Powell began his career with the SIU in 1993 at the Paul Hall Center for Maritime Training attending the Unlicensed Apprentice program. After graduating, he worked in the Steward Department aboard various Maersk Line-operated vessels until coming ashore in 1999, to serve the membership as a union official.  Since coming ashore, Bryan has taken on a multitude of roles across all divisions of the union (SIU, SEATU, UIW, and SMU), spanning every region of the United States and internationally.  Bryan has worked at/been based in various SIU offices during his career, including Houston, Jacksonville, Ft Lauderdale, Seattle/Tacoma, Anchorage, Los Angeles/Wilmington, San Francisco/Oakland, Baltimore, Boston, Piney Point, Mobile, Detroit/Algonac, Chicago/Joliet, and Saint Louis.  He possesses broad experience with cruise ship, commercial, military, heavy lift and special mission vessel operations (shipboard and shoreside) in the United States and globally.
Powell currently serves as Vice Chair of the Board of Directors for the Detroit/Wayne County Port Authority (DWCPA), serving since 2017 in various roles including Secretary-Treasurer.  He also serves as Secretary-Treasurer for both the Chicago & Western Lakes Maritime Council, and Greater St. Louis Maritime Council of the Maritime Trades Department, AFL-CIO.
Powell is a member of and/or active in organizations including the National Defense Transportation Association, Labor and Employment Relations Association, Chicago Federation of Labor, Michigan State AFL-CIO, Illinois State AFL-CIO, and Missouri State AFL-CIO, and the Maritime Trades Department of the AFL-CIO. He holds a bachelor's degree in business management, and master's degree in business administration with doctoral studies.